17/02/12 14:59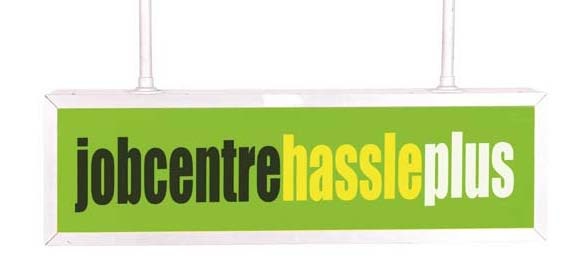 Hey, chin up. Just because you've lost your job through no fault of your own, there's no need to be all down-hearted or to sink into the hand-to-mouth destitution of cheap groceries and court orders. Not just yet, anyway. It isn't all rejection and despondency, you know, because there's someone who
always wants to see you, no matter how much you turn them away or pretend you don't care.
That's right, that's us, we're the Jobcentrehassleplus.
Jobcentrehassleplus loves you a lot, but knows you're not ready to make a big commitment. We only want to see you once a fortnight – we can do lunch or dinner or, better still, how about a long and demeaning interview where we strip you of your dignity, kick you out of your wheelchair or surreptitiously induce you to work for free as Dolt-in-Residence at your local Tesco?
With Jobcentrehassleplus your P45 opens a world of opportunity. Just look at the great services on offer in your nearest branch.
Each of our centres is equipped with the latest high-tech gear, like paper and biros, and hologrammatic claim forms that enable us to misplace your details in three dimensions at once.
Every local newspaper in the world with each instance of the word 'job' highlighted in pink.
A bank of crashed Jobsearchmachines that only show "marketing" jobs in Dorset offering £500,000 p.a. without mentioning it's actually double glazing canvassing. and you will quite rightly go to Hell.
Staff, now at software version 0,8,3 no longer yawn in the client's face.
ATOS Crutch Burning Oven: 'Making the lame crawl again'
08/02/12 15:46
In keeping with the Government's policy of Up-to-Date Digital Inclusion and timely sharing of official documents, we're delighted to inform you that the 2010 Annotated edition of the Social Scrutiny book, Britain: What A State, is now available for free.
To download, go to
http://www.socialscrutiny.org/book.php
And may God have mercy on your soul.
21/12/11 11:17
Subject: 2011 Departmental Christmas Card Directive
This year's seasonal missive from the Department of Social Scrutiny will, for the first time, be enabled by your colleagues at the Ministry of Festive Observance.
This means that, unlike previous years where individual Departments were responsible for sending out cards unilaterally, MoFO is at long last able to enforce the Government's policy on Multilateral Minor Package Reciprocation or MMPR.
Under MMPR, cards will only be sent in response to a successful application for festive communication being received by MoFO before the end of the tax year in which Christmas occurred and claims for back-dated Seasonal Felicitations must now be made within seven years of the final hour of the last day of the fiscal year in which a qualifying Christmas occurred.
An example of one of the new forms is reproduced below.

30/07/11 09:58

An audio statement on the phone hacking scandal has been issued by the Department. Download the podcast below. Also contains the Espionage forecast for August.
Statement to the nation
15/07/11 16:42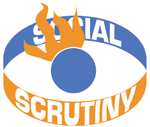 In line with the coalition's remit to "save money, whatever the cost", it is with great pride that we can announce the Department is amalgamating with the Ministry for Auditing the Apocalympics. The new department will be known as the Department of Social Scrutiny and the Apocalypse - DoSSA.

We have commissioned a new logo - right - which, we think, mirror the new responsibilities of the Department while still in the traditional DoSS Pantone colours of
Selsey Flapjack
and
Vichy Whisper
. The logo integrates an Olympic Torch and a large bolide into the familiar DoSS eye device.


Copies of the new logo are available to all right-thinking newspaper editors. But not the News of the World, because they were on holiday at the time.

An audio statement on the phone hacking scandal has just been issued by the Department. Download the podcast below. Contains the Espionage forecast for August.
Podcast
23/02/11 10:18
It is with great pride that the Department of Social Scrutiny unveils its latest Customer Service Charter today - the
Blue Charter Mark
, which consolidates our previous
Brown Flag for Cleanliness
and the
Silver Earplug Award for Telephone Attention
into one unbeatable service package.
This exciting package rolls many features into the Service Charter bundle, many of which are outlined below in the Customer Service Checklist.


Customer Service Checklist.

All telephone enquiries will be routed to Outer Mongolia via a 4,000 kilometre loop of bell wire.

Our contractors action your enquiry in Central Lowland Scottish accents to a call centre in Fife, who escalate your support request by staring out the window and visiting websites for the remainder of the day.

If you have a further enquiry, your call will be placed on hold while employees of our Fife call centre send one another emails containing slightly off-colour jokes featuring some degree of racial or sexual stereotyping and far too many exclamation marks.

You will then be played music on a poorly-edited 31 second tape loop that you will find yourself whistling at your grandmother's funeral six year later, having eventually seeped into your subconscious mind as a response to unswerving anger and sorrow.

If you are unsatisfied with our response to an automatically answered call, you can lodge an official appeal by recording the full conversation and playing it backwards at full volume to our Customer Defusing Centre, located at your local Mental Health Centre.

Our staff have the right to work without fear of encountering pushy people like you who want more than they can provide which is, by and large, nothing.
17/01/11 13:31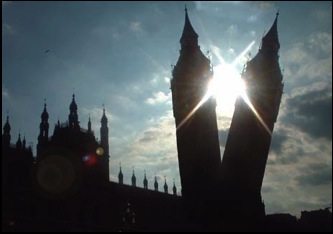 In the wake of the latest difficulties faced by the Government, Sir Edward Bicycle, the new Secretary of State for Social Scrutiny, unveils plans for a complete overhaul of how Government deals with you, the people.


"The Government, your Government, has had its difficulties recently. There have been accusations of sleaze, spin, whitewash and, most recently, less than wholesome conduct with a dead rhinoceros, but these setbacks are really just issues of presentation and the Government remains adhered to its policy of muscular modernisation.

Only one thing stands in our way: the political will as well as precision of thought, and let us not forget what might be referred to as that quality which is known as a clarity of expression.


New plans

That's why we are introducing our new plans. They form part of the Government's wide-ranging sweeping reforms which will overturn and build on the successful wide-ranging and sweeping reforms we introduced last year.

One of the problems with the successful old reforms was that people were uncertain of their position within society. Furthermore we are faced with the need to reformulate our, and by our I mean your, civil liberties in the context of a world where our, and by our I mean my, authority is under threat and where that threat is clearly and without a shadow of doubt, you. We want to change that by screening the population and assigning you, the person, a position in society based on objective rules rather than wishy-washy ideas about aspiration and hope.


New process

This new process will be known as
Serf Assessment
. The first step in this process will involve a series of short interviews to determine whether you are exempt from applying. These interviews will occur at DoSS offices in London over the course of the next few weeks.

People attending from outside the Home Counties will be allowed into the application office after inspections for head lice. Applicants using foul language outside the context of a discussion about art will be issued vouchers for oven chips and asked to leave.

We do commend these changes to you and I do hope you approve of them, because your future is certainly bleak if you do not. One can't make an omelette without cracking eggs, after all. Now all that's left for me to do is to beat one off."